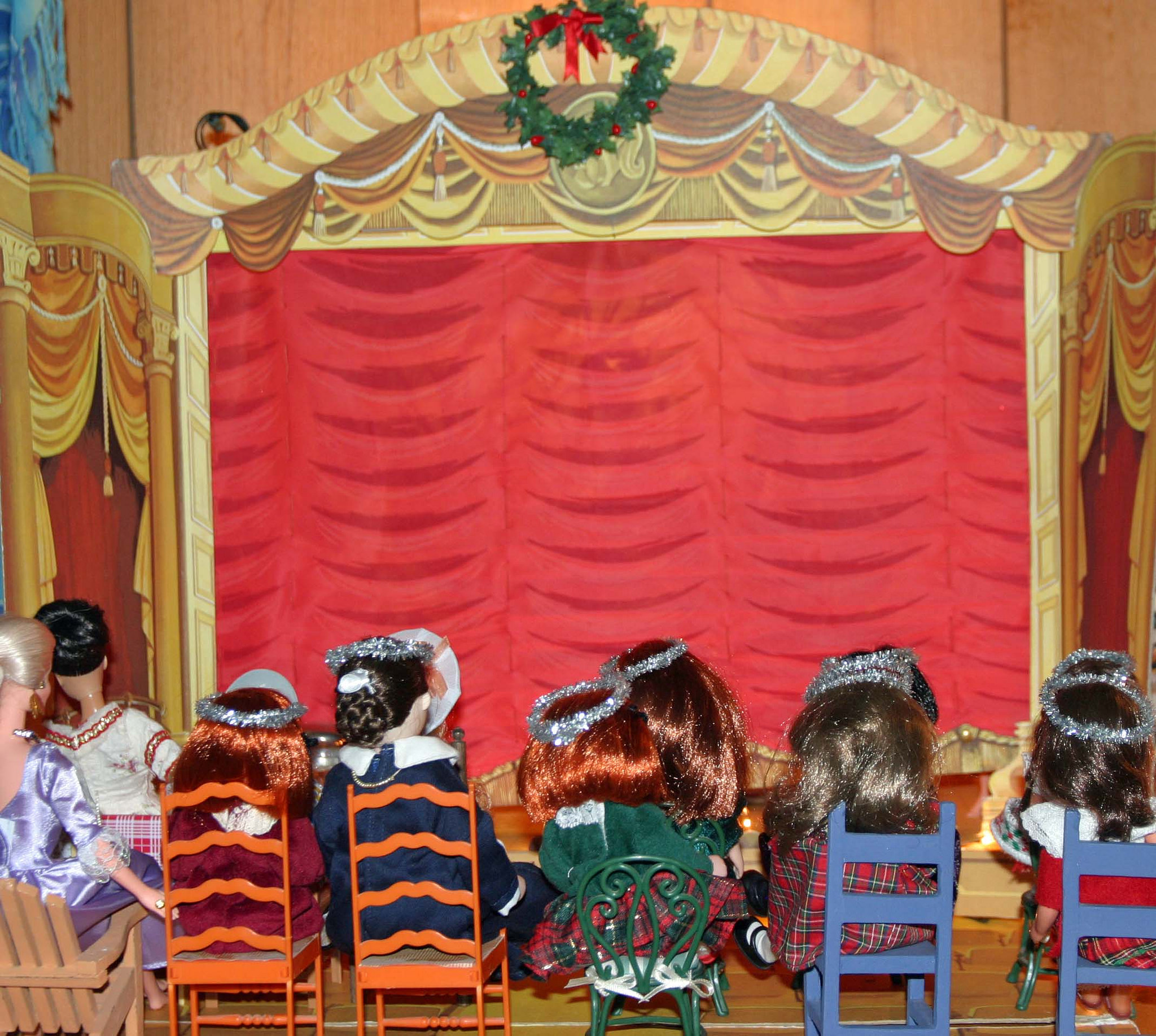 The Nutcracker Ballet is a series of eight YouTube Videos, slideshows enacting a dolls' visit to The Nutcracker Ballet performed by Barbies and other dolls.
Dollhouse Christmas is a prelude; it explores a scene with the Madeline dolls and Essie and Sarah decorating their Christmas tree at home. Miss Clavel as psychopomp. Evokes family-feeling and the excitement of Christmas preparations. Spirited music from "Come Join the Dance" by Kingsway Music.
The Nutcracker Suite, Act One (all to the music of Tchaikovsky's "Nutcracker Suite") honors the series of dolls and meticulous costumes Mattel created on the Nutcracker theme.
1. Going to the Nutcracker: "After their celebration at home, two by two they took the horse and carriage past the Christmas tree and into the heart of town to see the ballet."
2. Parents and Presents: The ballet begins: the home of forward-thinking St. Petersburg family in the early years of the 1900s. Set in the Barbie and Ken Little Theater from the sixties. The parents enjoy a quiet moment before the children enter to see the tree.
3. Toys and Guests: Children enjoy their new toys: guests arrive for a party; more presents.
4a. Later that Night: Clara's Nutcracker is left under the Christmas tree when the family goes to bed. He is imperiled by mice emerging from the baseboard.
4b. Later that Night: Clara and her cat rescue him. The Nutcracker comes alive!
5. Toy Soldiers: The toy soldiers come alive and help the Nutcracker drive away the mice.
6. Into the Christmas Tree: Clara and the Nutcracker dance and enter the magic world inside the Christmas tree.
7. The Dance of the Snowflakes
There are also some individual photos in my photo album The Nutcracker Ballet.
Articles
Why the Nutcracker
Going to the Nutcracker – A Review by Hawk Madrone
Photo Albums
Nutcracker Ballet Photo Album
Waltz of the Snowflakes Photo Album
Videos
To see the videos in proper order, choose them from this site, which lists them in order,
and not from my YouTube channel, which has them in mixed-up order.