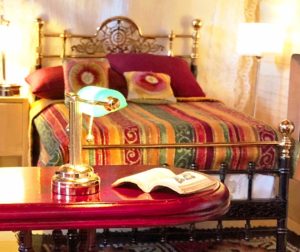 This contemporary 1:12 scale house is inhabited by the spiritual descendants of Annie, Cristabel, Polly and Eleanor, those Victorian ladies in "Boston Marriage".
Here we see new generations living together and engaging in well-known Lesbian rituals, such as the potluck, political activity, and perhaps some bed-hopping.
This house was made by combining three Lori Lofts.  This photo shows how it all fits together, and easily comes apart.  What was the back door now opens into the new addition. (Front door is on lower right.)
The dolls: Jo, Fiona, Laurel and Bonnie are by Heidi Ott; Kit is by Erna Meyer; Fern is by Zakazumi; Vera, by Cacao; Luanna is a silicone wonder from Greece, from EA;   Ellie is a standard-issue china-headed dollhouse doll; Dean Octavia Harris is from a Houseman set of dollhouse dolls.
Photo Album