This page is dedicated to the possibility that dolls can be alive.
It delivers photographic evidence for that proposition
and meditates on the sense it makes to believe such a thing.
There's a link to my blog, "What Dolls Do," with my writing about dolls, believing in dolls, and doll projects I've done.
There are photographs, including links to my Flickr albums of my doll-worlds.
And YouTube videos of some doll stories told as slideshows.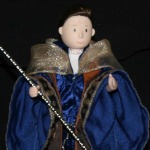 Scenes, vignettes, stories enacted by 1/6 scale dolls: Sunshine Family Dolls, Madeline Dolls, Barbie Dolls and friends, all living much better lives than their manufacturers had in mind.
Read more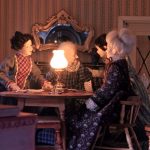 Where space shrinks and time expands.
In the 1870s, old lovers Cristabel and Annie move into the dollhouse with the help of Cristabel's niece Polly and her dearheart Eleanor.
Before long, the young women hatch a plan to build onto the fourth wall so they can move in, too. The addition is slowly built, meetings of the Votes For Women Society are held, Christmases come and go, Zeke and Cal move furniture and do carpentry. A time-traveling book arrives. A mysterious stranger rattles the kitchen door.
Featuring 1/12 scale Heidi Ott dolls.
Three Flickr albums.
Read more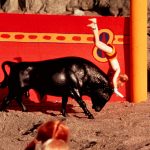 Z. Budapest's groundbreaking coming-of-age story from the 1970s is brought to life by Barbie and Skipper dolls. It's the tale of a mother and daughter who flee the patriarchy in ancient Greece and with help from the Goddess make the journey to a matriarchal Crete. Selene meets her grandmother, encounters a society of free women, discovers the sport of bull-leaping, and learns to overcome fear. Created over a 30-year period.
The complete slideshow was shown at a meeting of International Society of Women Philosophers in Boston in 1998.
This Flickr Album link contains the first half of the story. The second half is coming to the internet soon.
Read more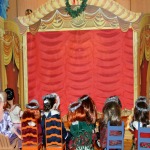 A dolls' visit to a wintertime performance of The Nutcracker Ballet: The Madelines, Essie, and Sarah take a carriage ride through a wintry city to the theater in the square. In the ballet: In a Christmas living room, parents and children, guests and gifts. A Nutcracker who comes alive at night. A swordfight with the Mouse King's army. The Waltz of the Snowflakes. The wonderful costumes Mattel has created on Nutcracker themes. Part 1 of Tchaikovsky's music. (Part 2 is still in production.)
The are eight YouTube video/slideshows and some stills. Also a link to some writing about this.
Read more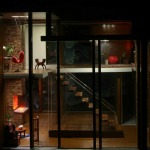 A new modern dollhouse built of glass and stone arrives, acquires furniture and an occupant, the architect who designed the house, and her pet dog and cat. A story begins to unfold.
Read more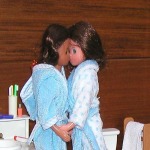 They began life as Pioneer Girl and Indian Maiden (in a Sunshine Family series produced for the 1976 Bicentennial) but quickly evolved into 1970s landykes.
They live in a forest cabin at the end of a dirt road on top of my refrigerator. They have twice visited Canada and love to spend time at the Oregon Coast. They read wee copies of WomanSpirit Magazine and Sinister Wisdom. There's the occasional semi-erotic moment, but mostly they deal with daily life. They are friends with Pearl Clavel and the Madelines.
Flickr albums & a couple of Nutcracker YouTube videos.
Read more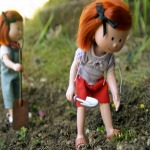 Ex-nun Miss Pearl Clavel lives with four little girls (the Madeleines: Madeline, Vanessa, Jeannie, and Linda) in a large dollhouse. Domestic adventures, scenes about town, and carriage rides in the park ensue. They attend the Oregon Shakespeare Festival's Greenshow and the Nutcracker Ballet. Peter Rabbit hides Easter eggs.
Flickr albums and YouTube videos.
Read more


Collections of doll photos and doll stories.
Read more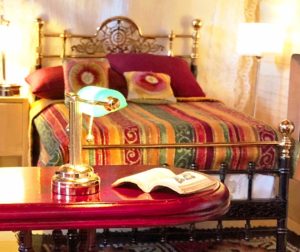 This contemporary 1:12 scale house is inhabited by the spiritual descendants of Annie, Cristabel, Polly and Eleanor, those Victorian ladies in "Boston Marriage".
Here we see new generations living together and engaging in well-known Lesbian rituals, such as the potluck, political activity, and perhaps some bed-hopping.
Read more
Citizens are called to action, armed with signs, masks and heart.
Read more